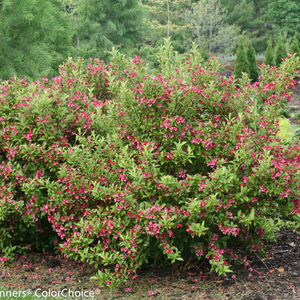 DETAILS
Overview
No, you're not imagining it - Sonic Bloom Ghost weigela really is this beautiful! We've long loved this plant for its bright, bright pink/red flowers and uniquely colored foliage, which starts out lime green and develops an unusual, bright golden glow through the summer. And we've always known it was an outstanding rebloomer, flowering along with conventional weigela in late spring, then taking a rest and coming roaring back with fresh waves of bright blooms in fall - that's why we're finally adding it to the Sonic Bloom® series of reblooming weigela, where it belongs. Don't settle for an ordinary weigela - plant something extraordinary, like Sonic Bloom Ghost!
Top reasons to grow Sonic Bloom® Ghost® weigela:
- Months of flowers instead of just weeks
- foliage develops a totally unmatched glowing gold color through the season
- A uniquely modern version of an old-fashioned favorite.
Continuous Bloom or Rebloomer
Disease Resistant
Foliage Interest
Sun Exposure
Dimensions
   Height: 48-60" 
   Width: 36-48"    
   Spacing: 48-60"
Qualities
Continuous Bloom or Rebloomer
Long Blooming

Deadheading Not Necessary

Zones: 4a-8b
Maintenance Notes: 
Prefers well-drained soils but fairly adaptable to other soil types. It is best to prune immediately after flowering. Will flower sporadically on current season's growth. Medium moisture. Fertilize in early spring by applying a slow release fertilizer specialized for trees and shrubs. Follow the label for the recommended rate of application.