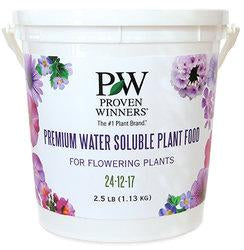 DETAILS
Overview
The unique 24-12-17 NPK formulation also includes the "EDDHA" form of Iron, which allows plants to use Iron efficiently at wide pH ranges allowing plants like Supertunia® Petunias and Superbells® Calibrachoa to stay green, full, and healthy throughout the growing season. Includes multiple sources of Nitrogen for strong growth and color, Phosphorus, Potassium, Iron, and all other key micro-elements to ensure peak plant performance. The 2.5 lb. container includes a fast-acting and highly soluble formula that starts feeding immediately in container plantings, hanging baskets, window boxes, landscape beds, and even indoor plants.
Sun Exposure


   I can be used in any sunlight conditions

Application Season
When To Use

Once every 7 to 14 days is recommended.:

How Much to Use

For Potted & Container Plants:  Apply every 7 to 14 days using the application rates below.: 4" use 1 cup, 6" use 2 cups, 8" use 1 qt., 10" use ½ gallon, 18" use 1 gallon, 24" us 1-2 gallons, 36" use 2 gallons.
For Garden Landscape Use:: Apply 1 to 2 gallons of solution per 10 square feet of area every 7 to 14 days.

From the Experts in Premium Flowering Plants: Proven Winners Premium Soluble Plant Food is formulated for great results with all flowering plants.  Its quick delivery of vital nutrients helps produce better rooting, strong growth, vibrant and abundant flowers, and more color in your garden.
How to Apply
Use Proven Winners Premium Soluble Plant Food in pots, containers, hanging baskets, combination plantings, window boxes, or in your garden landscape.  You can mix and apply the product yourself, or apply using a hose-end spray unit. Use the suggested applications rates above to determine the right amount to apply for the beautiful results every gardener dreams of..