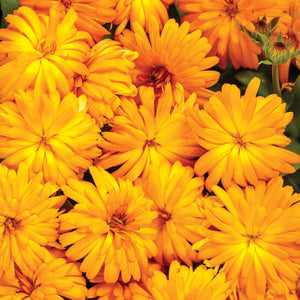 DETAILS
Overview
I eat SUNLIGHT for breakfast. 
Large colorful flowers with great heat tolerance.  Fully double flower means less seed set and fewer seedlings trying to take over your garden.
The optimum amount of sun or shade each plant needs to thrive: Full Sun (6+ hours), Part Sun (4-6 hours), Full Shade (up to 4 hours). 
Sun Exposure
Growing Season
Dimensions
   Height: 10-16"    
   Width: 12-18"    
   Spacing: 8-12"
Qualities
Long Blooming
Continuous Bloom or Rebloomer

Deadheading Not Necessary
Heat Tolerant
Fall Interest