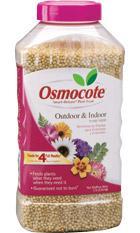 DETAILS
Overview
It's 4-month, 15-9-12 formula has become the industry standard for slow-release plant food. Often imitated but never equaled, Outdoor & Indoor feeds throughout the plant's active growing season without risk of chemical burn.
Sun Exposure


   I can be used in any sunlight conditions

Application Season
When To Use

Apply to outdoor plants every 4 months during the growing season. Can be applied to indoor plants, also every 4 months, year-round.

How Much to Use

For outdoor use, sprinkle evenly across areas to be fed and work into the top 1-3 inches of soil. When transplanting annuals from flats or when re-potting, mix into the soil and growing media at the bottom of the hole before planting. Water.
How to Apply