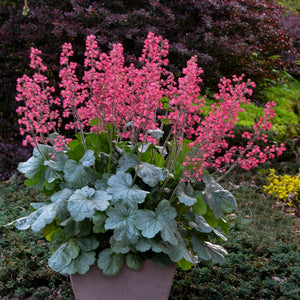 DETAILS
Overview
A great package of both wonderful foliage and flowers! Silvery green leaves have dark green veins. Bicolor flowers with dark pink petal tips and light pink bases.
Thrives in part shade but will grow in full shade. Plant in humus-rich, well-drained soil. Trim back tattered foliage in early spring. Salt tolerant.
The optimum amount of sun or shade each plant needs to thrive: Full Sun (6+ hours), Part Sun (4-6 hours), Full Shade (up to 4 hours).
Growing Season

Dimensions
   Height: 8-10"    
   Width: 26-30"    
   Spacing: 26-30"
Qualities
Salt Tolerant
Fantastic Foliage
Long Blooming
Winter Interest